ML040-CF with ENT handle
Featuring an excellent design, compact structure, elegant appearance, and reliable performance, this laser device is widely utilized in various fields such as gynecology, dermatology, cosmetology, surgery, and E.N.T. It serves purposes including cutting, vaporizing, cauterizing, and solidifying care.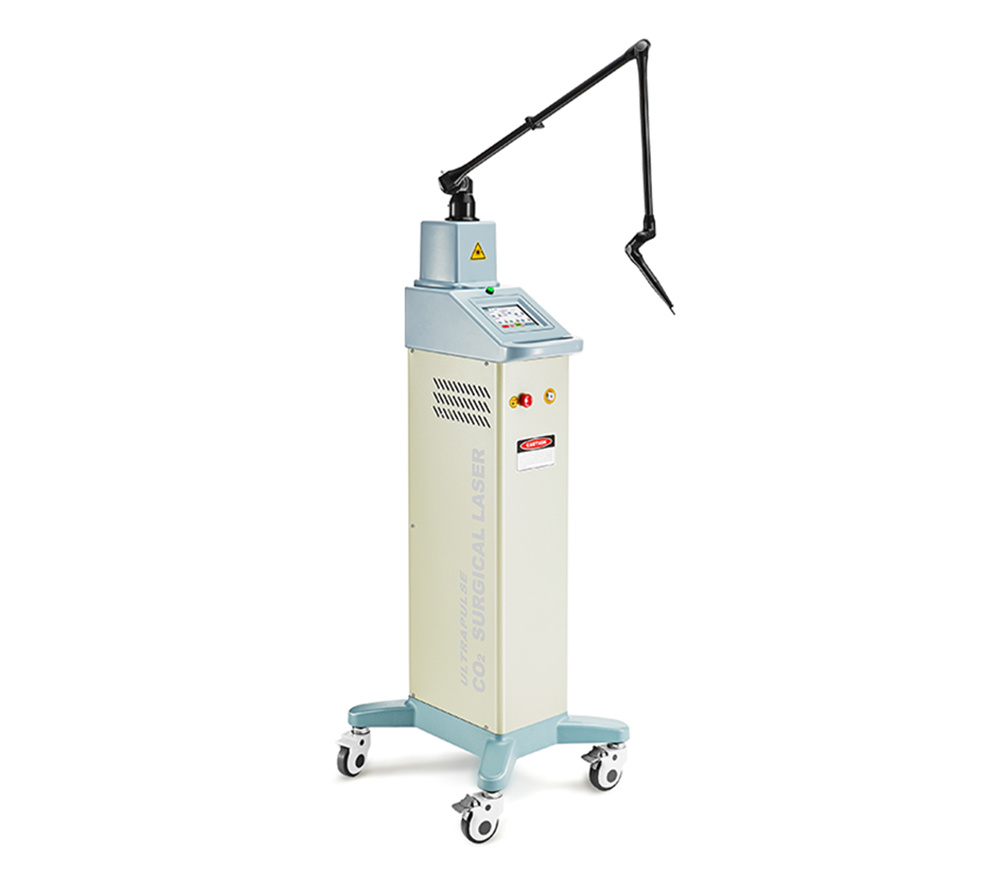 Advantages:
CO2 laser produces higher power with relative efficiency, provide less tissue trauma and edema, which lead to minimal heat damage, much short time for healing

As ablation occurs, CO2 deep heating stimulates collagen growth and remodeling while offering the patient comfort level and convenience that approaches non-ablative resurfacing.

No matter normal handle for skin, or gynecology handle for vaginal use, fractional technology distribute the laser energy in an even pattern, which produces balanced vaporization, coagulation, and the thermal effects on the tissues. These effects cause collagen contraction, producing a tightening effect that is considered to be effective for the resurfacing.

The combination of surgical, ENT based on different handles, help the CO2 laser system extend more clinical applications.
Fractional System:
Pilot beam intensity adjustable

Char-free in Ultra pulse

LCD Display Screen

Memory Keeping Function

On time & off time Adjustable

Safety Protection

Less bleeding

Improved bacterial reduction

Less post-operative pain

Scar-free wound healing
Applications:
Incision

Excision and Vaporization of Soft Tissue in Dermatology

Plastic Surgery

General Surgery

Podiatry,Dental Surgery

Otorhinolaryngology (ENT)

Gynecology

Neurosurgery
Specifications:
| | |
| --- | --- |
| Laser Type | Sealed-off CO2 laser tube |
| Wavelength | 10.6μm |
| Mode Structure | TEM00 |
| Power to Tissue | 0.5 - 40W |
| Ultra pulse Duration (on-time) | 10ms - 1000ms |
| Laser Operation Modes | CW, Pulse, Ultra pulse |
| Tissue Exposure Modes | Continuous, Single pulse, Repeat pulse |
| Aiming Beam | 2mW ( 650nm diode ) adjustable |
| Articulated Arm | 7- joint Articulated Arm |
| Cooling | Closed Loop Liquid |
| Electrical power | 110 / 220V 60 / 50Hz |
| Dimension | 520mm*440mm*1470mm |
| Ceramic tip spot size | 200um/400/um/600um |
FAQ: